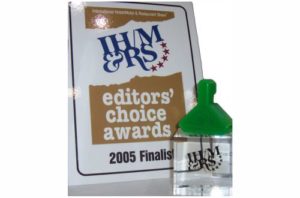 DoorPRO Doorstop, has been established as a standard in the hospitality industry. Making a statement with its "Best New Product Award" in 2005 at the International Hotel, Motel and Restaurant Show in New York City, DoorPRO is a revolutionary product that promotes efficiency and professionalism while eliminating the need to bend over.
The DoorPRO was developed in the Las Vegas market in 2005 and Vegas Doorstop Industries Inc has taken the product throughout the US and international. It is being used at thousands of hotels, including 6 major hospitality distributors which could place the product into over 50,000 hotels and motels worldwide. A Las Vegas bellman designed and developed a new doorstop product that was easy to use, decreased property damage and was safer than the old-fashioned models. The company's success was in understanding the needs of hotel operators and its employees.
Former Bellman makes leap to entrepreneurship
When the idea was developed, the company started direct selling to the hotel purchasing departments and branched into the market with outside sales representatives and a couple distributors across the Country.
Mark Stolarczyk, vice president of corporate purchasing for MGM Mirage, was the first buyer to give the bellman a sale. He said his energy and creativity impressed him. He said the product made sense for use at MGM Mirage properties. "It's not often that I meet a new supplier for the first time and become as impressed as I was," Stolarczyk said. "He had a professional presentation and a tremendous amount of enthusiasm and pride about the product."
Today it's the New Standard in the Hospitality Industry! Bellmen, Maids and Room Service personnel in thousands of hotel rooms around the world utilize the DoorPRO Doorstop. Hotels including five star resorts operated by MGM International, Hyatt, Hilton, Ritz Carlton and Marriott are just a few using the product. The DoorPRO Doorstop is manufactured in the United States. The product is also gaining more popularity and has relevant application in any setting that needs an open door, such as janitorial, hospitals, schools and your home.