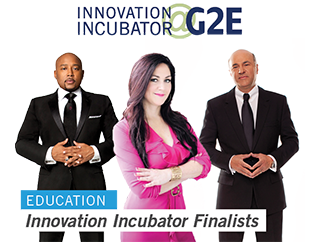 Making it as one of the finalist at the Global Gaming Expo (G2E) has been such an adventure.  I had the pleasure of presenting to Kevin O'Leary, Chairman of O'Shares ETF Investments and Star of ABC's Shark Tank, Daymond John also on Shark Tank,  and Cindy Eckert at the Sands Expo & Convention Center, the DoorPRO Doorstop.  I explained, why it may be a simple invention, it really can make a difference.  First impressions, decreasing work related injury and increasing work efficiencies are the top reasons why the DoorPRO Doorstop has been so successful. I think they agreed!  Naming the DoorPRO Doorstop at the Winner and also voted by the attendees as Customer's Choice was surreal!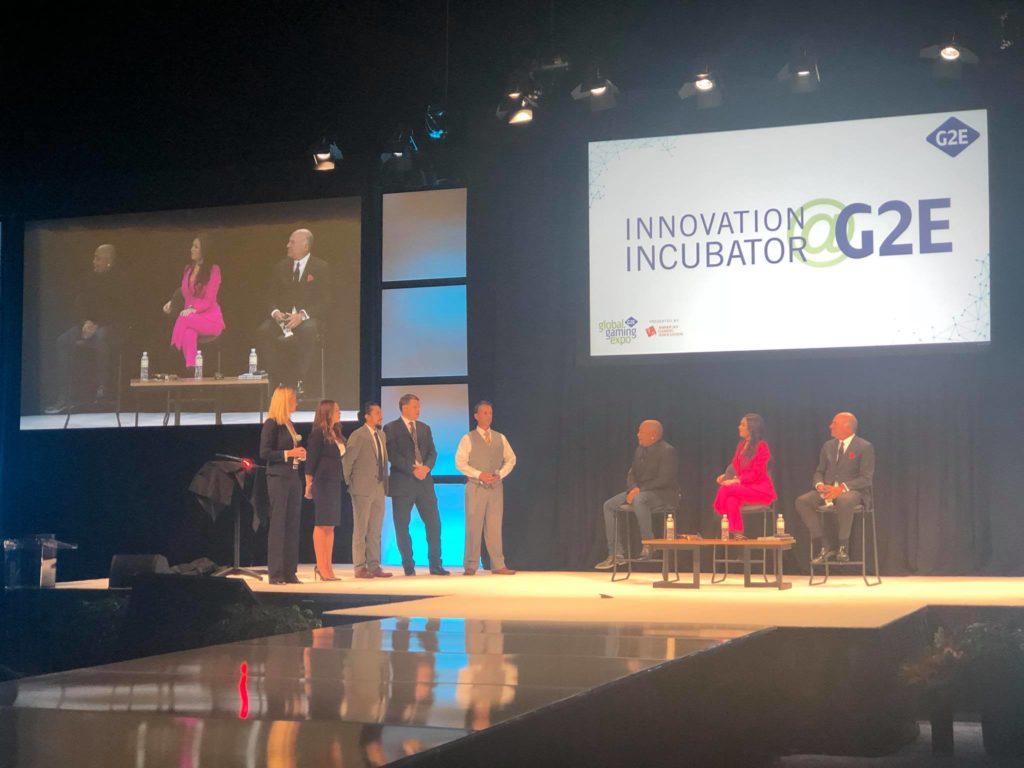 Here is an article written by the Las Vegas Review-Journal:

A former Strip bellman and 1992 UNLV graduate is $10,000 richer and will get a free booth at the 2019 Global Gaming Expo trade show after winning a "Shark Tank"-inspired product innovation competition Thursday.Bill Hengler, founder and CEO of DoorPro Doorstop, a device used to prop a hotel room door open at the hinges, won the Judge's Choice award by convincing a majority of the three judges of the merits of his product following a five-minute pitch presentation.

No tears were shed and "Shark Tank" judges Kevin O'Leary, Daymond John and Cindy Eckert scored some laughs in the hour-long "Innovation Incubator" presentation on the final day of the four-day G2E trade show at the Sands Expo & Convention Center.

O'Leary, the brutally honest "Mr. Wonderful" judge on the ABC-produced reality television show, has a reputation for criticizing entrepreneurs for product ideas that don't measure up to his standards.

$1.6 million in sales

O'Leary and John, the founder and CEO of FUBU, were won over by the fact that Hengler already has sold more than 200,000 units since taking the product to market in 2010. Hengler said he has had $1.6 million in sales to MGM Resorts International and Las Vegas Sands resorts, to the Walt Disney Cos. and to schools and military housing units.

"I realized the benefits of not having to bend over 40 or 50 times a day as I greeted guests in their hotel rooms," Hengler said in his presentation. "I thought to myself one day, 'There's got to be a better way to go to these rooms all day long without bending over and using the basic floor rubber doorstop,'" he said.

He said the devices cost about $2 apiece to make and he sells packs of two stops for $20.99, giving discounts to companies that purchase them in bulk.

O'Leary said he was impressed.

"I swear, I thought this was an absolute piece of s*** and I am just wrong," he said.

"It isn't as stupid as I thought," added John.

Hengler said he plans to use the prize money to help develop an updated version of the device.

Inside Injuries

The third judge, Eckert, the CEO of Pink Ceiling and Sprout Pharmaceuticals, leaned toward another startup, Inside Injuries, a sports information company developed by CEO Tracy Hankin that produces predictive information on the impact of injuries on player performance.

Hankin said using information from a panel of sports medicine experts and data scientists, her company can project athletic performance with 80 percent accuracy.

She said her service, which she offers for $4.99 a month, can provide better information to bookmakers when setting odds and to consumers seeking an edge when they bet or participate in fantasy sports leagues.

The judges weren't as enamored with two products developed by UNLV students, the Shield Card Shoe, a table game security device to prevent players from determining a playing card, and Window Magic, an immersive content delivery system that integrates transparent Organic Light Emitting Diode displays in luxury hotel rooms.

The DoorPro Doorstop also was selected by the crowd attending the presentation as the Customer's Choice in a texted survey vote during the event.
What An Experience!